AROUND THE WORLD WITH MARILYN AND SARAH
In the past four decades, the Lord has continually opened doors of opportunity in nearly 135 countries. This includes private meetings and prayer with high-ranking Muslim and Hindu government officials.
Her lectures on healing and the Bible have broken records for the largest public meeting ever held in that nation's history, including Cairo, Egypt and Pakistan.
The natural inclination to reach out, to celebrate people and culture, were traceable in Marilyn's formative years; yet she had no idea how God would send her around the globe teaching the Bible and building bridges with people of all cultures and religious backgrounds.
Together, Marilyn and Sarah's mission to bring people into relationship with Jesus Christ often lead them to difficult places, including Muslim nations and lands oppressed by communism, cruel dictators, poverty, disaster, and disease.
Year after year, they cross unfriendly borders with Bibles, teaching materials, and books translated into native languages, often at great personal risk. Marilyn and Sarah carry the gospel into scores of nations including Pakistan, Italy, Morocco, Ethiopia, Sudan, Russia, Panama, Australia, China, Germany, India, The United Kingdom, Vietnam, and dozens more.
These reports will inform and inspire you!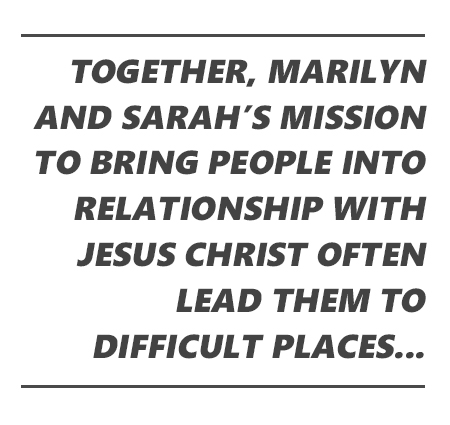 On Sunday, travelers toured the storehouses of Joseph and loved it. Some travelers played tourist and shopped at stores near the hotel. You know how it is when you have to have a hieroglyphic T-shirt to take home. The farewell dinner was a splendor of color as travelers arrived dressed in their best. Several ladies wore Egyptian headdresses, bands of gold and glimmering beads.  There was no lack of cuisine choices. Everything from a Greek salad to a turkey carving station. Marilyn thanked her travelers and told them they were absolutely the best travelers she's ever had and encouraged [...]