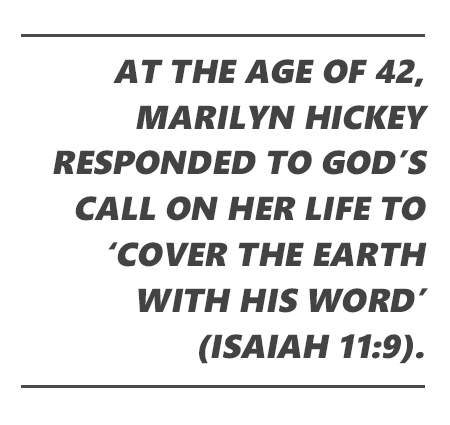 At the age of 42, Marilyn Hickey responded to God's call on her life to 'cover the earth with the Word' (Isaiah 11:9). The natural inclination to reach out, to celebrate people and culture, were traceable in Marilyn's formative years; yet she had no idea how God would send her around the globe teaching the Bible and building bridges with people of all cultures and religious backgrounds, especially in the Muslim world.
The Lord has continually opened doors of opportunity for Marilyn in over 146 countries. This includes private meetings and prayer with high-ranking Muslim and Hindu government officials. Her lectures on healing and the Bible have broken records for the largest public meetings ever held in that nation's history, including Cairo, Egypt, and Pakistan.
Sarah Bowling was just five years old, on a trip to the Holy Land, when she had her first interaction with an Arab person. Since then, Sarah has ministered around the globe.
It was on a ministry trip to Northern Ethiopia in 2009 when Sarah, holding newborn twins who were abandoned in a field, felt compelled to start Saving Moses. This humanitarian initiative assists children ages 5 and under with basic food, water, shelter and medical needs.
In 2019, Sarah launched her teaching ministry, Sarah Bowling – Living Genuine Love.  This ministry is on a mission to connect every one with the heart of God while loving those who are overlooked, excluded, and ignored. Sarah aspires to facilitate this connection by equipping people with resources and tools that empower them to walk in an intimate and vibrant relationship with God. Find out more at sarahbowling.org.
Together, Marilyn and Sarah's mission to bring people into relationship with Jesus Christ often lead them to difficult places, including Muslim nations and lands oppressed by communism, cruel dictators, poverty, disaster, and disease.
Year after year, they cross unfriendly borders with Bibles, teaching materials, and books translated into native languages, often at great personal risk, carrying the gospel into scores of nations including Pakistan, Italy, Morocco, Ethiopia, Sudan, Russia, Panama, Australia, China, Germany, India, The United Kingdom, Vietnam, and dozens more.
From humble beginnings to the international organization known today as Marilyn Hickey Ministries, Marilyn and Sarah share a calling for:
Bringing God's miracles and healing to those in need, nationally and internationally
A love for teaching the Bible
Building bridges and taking the gospel to the nations
It's simple. When we live the truth of the Bible, we can experience the blessed, miraculous life that God's Word promises, including bringing people of different faiths together, leading people to Christ, and helping those in need.
Covering the earth with the Word